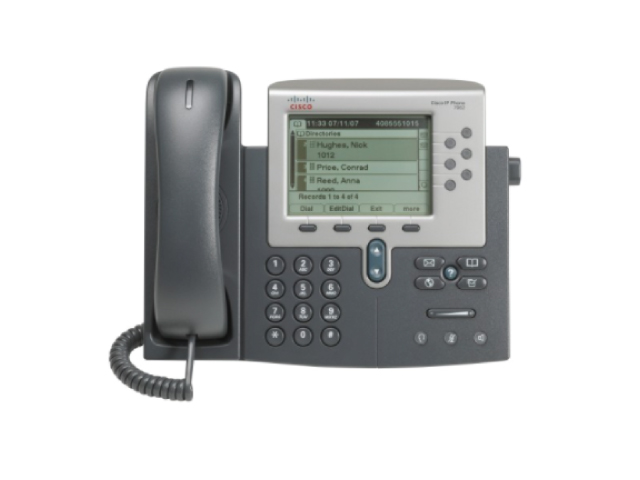 * Images, dimensions, weight, and other product details are for reference only. For questions and Bulk Prices email us at sales@d-ziner.com.
Cisco Unified 7962G IP Phone – Wall Mountable, Desktop – Dark Gray, Silver – 6 – Total Line – VoIP – 2 – Network (RJ-45) – PoE Ports – Monochrome – SIP Protocol(s)
| | |
| --- | --- |
| SKU | CP-7962G |
| Condition | New |
| Brand | CISCO |
| GTIN | 0 882658140341 |

Cisco Unified IP Phone 7962G – VoIP phone – SCCP, SIP – silver, dark gray
The Cisco Unified IP Phone 7962G is a full-featured IP phone with speakerphone and handset designed for wideband audio. It is intended to meet the needs of managers and administrative assistants. It has six programmable backlit line/feature buttons and four interactive soft keys that guide you through all call features and functions. The phone has a large, 4-bit grayscale graphical LCD that provides features such as date and time, calling party name, calling party number, digits dialed, and presence information. The crisp graphic capability of the display allows for the inclusion of higher value, more visibly rich Extensible Markup Language (XML) applications, and support for localization requiring double-byte Unicode encoding for fonts. A hands-free speakerphone and handset designed for hi-fidelity wideband audio are standard on the Cisco Unified IP Phone 7962G, as is a built-in headset connection and an integrated Ethernet switch.
Main Specifications
| | |
| --- | --- |
| Product Description | Cisco Unified IP Phone 7962G – VoIP phone |
| Product Type | VoIP phone |
| Main Features | Multiple VoIP protocol support, integrated Ethernet switch |
| VoIP Protocols | SCCP, SIP |
| Voice Codecs | G.722, G.729a, G.729ab, G.711u, G.711a, iLBC |
| Speakerphone | Yes (digital duplex) |
| Caller ID | Yes |
| Voice Mail Capability | Yes |
| Call Services | Voice Mail, Caller ID, Call Forwarding, Call Transfer, Call Hold |
| Display | LCD display – monochrome |
| Network Ports Qty | 2 x Ethernet 10Base-T/100Base-TX |
| Body Color | Silver, dark gray |
| Pricing Type | New |
Extended Specifications
General
| | |
| --- | --- |
| Product Type | VoIP phone |
| Body Color | Silver, dark gray |
| Body Material | ABS plastic |
Phone Features
| | |
| --- | --- |
| Call Services | Voice Mail, Caller ID, Call Forwarding, Call Transfer, Call Hold |
| Dialer Type | Keypad |
| Dialer Location | Base |
| Conference Call Capability | Yes |
| Speakerphone | Yes (digital duplex) |
| Menu Operation | Yes |
| Function Buttons | Speakerphone button, directory button, navigator key, headset button, mute button |
| Volume Control | Yes |
| Ringer Control | Yes |
| Firmware Upgradable | Yes |
| Additional Functions | Web browser |
| Additional Features | On-hook dialing |
IP Telephony
| | |
| --- | --- |
| Main Features | Multiple VoIP protocol support, integrated Ethernet switch |
| VoIP | Yes |
| VoIP Protocols | SCCP, SIP |
| Voice Codecs | G.722, G.729a, G.729ab, G.711u, G.711a, iLBC |
| Quality of Service | IEEE 802.1Q (VLAN), IEEE 802.1p |
| IP Address Assignment | DHCP, static |
| Security | 128-bit AES |
| Power Over Ethernet (PoE) Support | Yes |
| Network Protocols | TFTP |
| Network Ports Qty | 2 x Ethernet 10Base-T/100Base-TX |
| Voice Features | Echo cancellation (ECN) |
| Network Features | Class 3 PoE |
Display
| | |
| --- | --- |
| Type | LCD display – monochrome |
| Display Location | Base |
| Diagonal Size | 5″ |
| Display Resolution | 320 x 222 pixels |
| Display Information | Date, time |
Miscellaneous
| | |
| --- | --- |
| Connections | Headset jack |
| Hearing Aid Compatible | Yes |
| Placing / Mounting | Wall-mountable, table-top |
| Pricing Type | New |
Dimensions & Weight (Base)
| | |
| --- | --- |
| Width | 10.5 in |
| Depth | 6 in |
| Height | 8 in |
| Weight | 3.5 lbs |