Refurbished WS-C3850-24XU-L Switch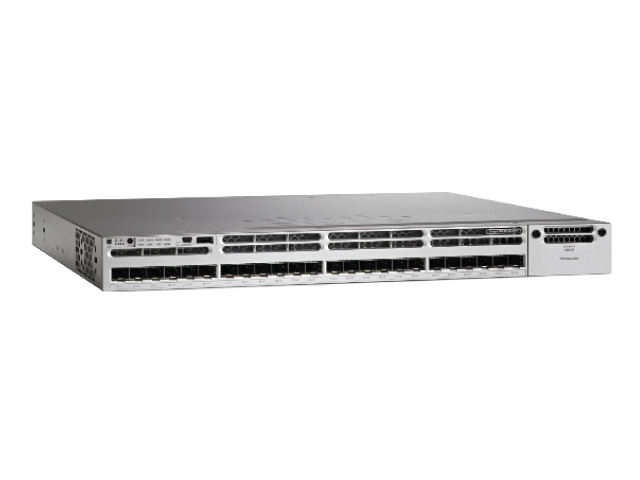 Refurbished Cisco Catalyst WS-C3850-24XU-L – 24 Ports Manageable Layer 3 Supported Network Switch
| | |
| --- | --- |
| Weight | 15 lbs |
| Dimensions | 16 × 18 × 2 in |
| SKU | WS-C3850-24XU-L |
| Condition | Refurbished |
| Brand | CISCO |
| GTIN | 0 882658763113 |
Email at sales@d-ziner.com for bulk discounts
Images, dimensions, weight, and other product details are for reference only. Please confirm with us via chat or sales@d-ziner.com if you need specific details regarding the product.
Cisco Catalyst 3850-24XU-L – Switch – managed – 24 x 1/2.5/5/10GBase-T (UPOE) – desktop, rack-mountable – UPOE (580 W)
Get an access switch that gets you ready for 802.11ac Wave 2 and other new technologies that are here today, or coming at you tomorrow. Stackable Catalyst 3850 Series multigigabit network switches give you wired and wireless together so you can scale up and protect your investments.
Key Selling Points
24 multigigabit ports
24 UPOE ports
Supports Cisco StackPower
Supports 8x10G and 2x40G uplinks
Main Specifications
| | |
| --- | --- |
| Product Description | Cisco Catalyst 3850-24XU-L – switch – 24 ports – managed – rack-mountable |
| Device Type | Switch – 24 ports – managed – stackable |
| Enclosure Type | Rack-mountable 1U |
| Subtype | 10 Gigabit Ethernet |
| Ports | 24 x 1/2.5/5/10GBase-T (UPOE) |
| Power Over Ethernet (PoE) | UPOE |
| PoE Budget | 580 W |
| Performance | Switching capacity: 640 Gbps ? Stacking bandwidth: 480 Gbps ? Forwarding rate: 500 Mbps |
| Capacity | IPv4 routes: 24000 ? NetFlow entries: 48000 ? VLAN IDs: 4000 ? Switched virtual interfaces (SVIs): 1000 |
| MAC Address Table Size | 32000 entries |
| Jumbo Frame Support | 9198 bytes |
| Routing Protocol | OSPF, BGP-4, IS-IS, RIP-1, RIP-2, EIGRP, IGMPv2, IGMP, PIM-SM, PIM-DM, IGMPv3, EIGRP for IPv6, OSPFv3, PIM-SSM, policy-based routing (PBR), RIPng, MLDv2, MLD, URPF, MSTP |
| Remote Management Protocol | SNMP 1, RMON 1, RMON 2, Telnet, SNMP 3, SNMP 2c, TFTP, SSH, CLI, NTP |
| Features | ARP support, Intrusion Detection System (IDS), IPv6 support, DHCP snooping, Dynamic Trunking Protocol (DTP) support, Port Aggregation Protocol (PAgP) support, Access Control List (ACL) support, Quality of Service (QoS), Virtual Route Forwarding-Lite (VRF-Lite), Dynamic ARP Inspection (DAI), Uni-Directional Link Detection (UDLD), Rapid Per-VLAN Spanning Tree Plus (PVRST+), IPv4 support, Shaped Round Robin (SRR), Link Aggregation Control Protocol (LACP), Remote Switch Port Analyzer (RSPAN), Management Information Base (MIB), Wireless Intrusion Prevention System (WIPS), Class of Service (CoS), Cisco StackWise-480 technology, Cisco StackPower technology, Flexible NetFlow (FNF), 802.1x authentication, DiffServ Code Point (DSCP) support, radio resource management (RRM), IP source guard, Weighted Tail Drop (WTD), Bridge protocol data unit (BPDU), Control plane protection (CoPP), Spanning-tree Root Guard (STRG), RA guard, Energy-Efficient Ethernet (EEE), Embedded Event Manager (EEM), Protocol Independent Multicast (PIM), VLAN Trunking Protocol (VTP) v.3, MQC, Audio Video Bridging (AVB), OBFL, Committed Information Rate (CIR), Media Access Control Security (MACsec) |
| Compliant Standards | IEEE 802.3, IEEE 802.3u, IEEE 802.11, IEEE 802.1D, IEEE 802.1Q, IEEE 802.3ab, IEEE 802.1p, IEEE 802.3af, IEEE 802.3x, IEEE 802.3ad (LACP), IEEE 802.1w, IEEE 802.1x, IEEE 802.1s, IEEE 802.1ae, IEEE 802.1as, IEEE 802.3at, IEEE 802.1Qat, IEEE 802.1Qav, IEEE 802.1BA, IEEE 802.3bz |
| Power | AC 120/230 V (50/60 Hz) |
| Power Redundancy | Optional |
| Dimensions (WxDxH) | 17.5 in x 19.2 in x 1.8 in |
| Weight | 17.64 lbs |
| Manufacturer Warranty | Limited lifetime warranty |
Extended Specifications
General
| | |
| --- | --- |
| Device Type | Switch – 24 ports – managed – stackable |
| Enclosure Type | Desktop, rack-mountable 1U |
| Subtype | 10 Gigabit Ethernet |
| Ports | 24 x 1/2.5/5/10GBase-T (UPOE) |
| Power Over Ethernet (PoE) | UPOE |
| PoE Budget | 580 W |
| Performance | Switching capacity: 640 Gbps ? Stacking bandwidth: 480 Gbps ? Forwarding rate: 500 Mbps |
| Capacity | IPv4 routes: 24000 ? NetFlow entries: 48000 ? VLAN IDs: 4000 ? Switched virtual interfaces (SVIs): 1000 |
| MAC Address Table Size | 32000 entries |
| Jumbo Frame Support | 9198 bytes |
| Routing Protocol | OSPF, BGP-4, IS-IS, RIP-1, RIP-2, EIGRP, IGMPv2, IGMP, PIM-SM, PIM-DM, IGMPv3, EIGRP for IPv6, OSPFv3, PIM-SSM, policy-based routing (PBR), RIPng, MLDv2, MLD, URPF, MSTP |
| Remote Management Protocol | SNMP 1, RMON 1, RMON 2, Telnet, SNMP 3, SNMP 2c, TFTP, SSH, CLI, NTP |
| Encryption Algorithm | 128-bit AES, 256-bit AES, DTLS |
| Authentication Method | Kerberos, Secure Shell (SSH), RADIUS, TACACS+ |
| Features | ARP support, Intrusion Detection System (IDS), IPv6 support, DHCP snooping, Dynamic Trunking Protocol (DTP) support, Port Aggregation Protocol (PAgP) support, Access Control List (ACL) support, Quality of Service (QoS), Virtual Route Forwarding-Lite (VRF-Lite), Dynamic ARP Inspection (DAI), Uni-Directional Link Detection (UDLD), Rapid Per-VLAN Spanning Tree Plus (PVRST+), IPv4 support, Shaped Round Robin (SRR), Link Aggregation Control Protocol (LACP), Remote Switch Port Analyzer (RSPAN), Management Information Base (MIB), Wireless Intrusion Prevention System (WIPS), Class of Service (CoS), Cisco StackWise-480 technology, Cisco StackPower technology, Flexible NetFlow (FNF), 802.1x authentication, DiffServ Code Point (DSCP) support, radio resource management (RRM), IP source guard, Weighted Tail Drop (WTD), Bridge protocol data unit (BPDU), Control plane protection (CoPP), Spanning-tree Root Guard (STRG), RA guard, Energy-Efficient Ethernet (EEE), Embedded Event Manager (EEM), Protocol Independent Multicast (PIM), VLAN Trunking Protocol (VTP) v.3, MQC, Audio Video Bridging (AVB), OBFL, Committed Information Rate (CIR), Media Access Control Security (MACsec) |
| Compliant Standards | IEEE 802.3, IEEE 802.3u, IEEE 802.11, IEEE 802.1D, IEEE 802.1Q, IEEE 802.3ab, IEEE 802.1p, IEEE 802.3af, IEEE 802.3x, IEEE 802.3ad (LACP), IEEE 802.1w, IEEE 802.1x, IEEE 802.1s, IEEE 802.1ae, IEEE 802.1as, IEEE 802.3at, IEEE 802.1Qat, IEEE 802.1Qav, IEEE 802.1BA, IEEE 802.3bz |
| RAM | 4 GB |
| Flash Memory | 2 GB |
| Status Indicators | Status |
Expansion / Connectivity
| | |
| --- | --- |
| Interfaces | 24 x 1/2.5/5/10GBase-T RJ-45 UPOE – 60 W ? 1 x USB Type A ? 1 x management (mini-USB) Type B ? 1 x console RJ-45 management ? 1 x management (Gigabit LAN) RJ-45 ? Network stack device |
| Expansion Slots | 1 (total) / 1 (free) x expansion slot |
Power
| | |
| --- | --- |
| Power Device | Internal power supply |
| Installed Qty | 1 (installed) / 2 (max) |
| Power Redundancy | Optional |
| Power Redundancy Scheme | 1+1 (with optional power supply) |
| Power Provided | 1100 Watt |
| Voltage Required | AC 120/230 V (50/60 Hz) |
Miscellaneous
| | |
| --- | --- |
| MTBF | 203,150 hours |
| Compliant Standards | CISPR 22 Class A, CISPR 24, EN 61000-3-2, NOM, EN 61000-3-3, EN55024, ICES-003 Class A, UL 60950-1 Second Edition, KCC, RoHS, EN 60950-1 Second Edition, IEC 60950-1 Second Edition, VCCI Class A, KN24, KN22 Class A, EN 55022 Class A, FCC CFR47 Part 15 A, CNS 13438 Class A, CAN/CSA C22.2 No. 60950-1 Second Edition, AS/NZS CISPR22 Class A |
Software / System Requirements
| | |
| --- | --- |
| Software Included | Cisco IOS LAN Base |
Dimensions & Weight
| | |
| --- | --- |
| Width | 17.5 in |
| Depth | 19.2 in |
| Height | 1.8 in |
| Weight | 17.64 lbs |
Manufacturer Warranty
| | |
| --- | --- |
| Service & Support | Limited warranty – replacement – lifetime – response time: next business day ? Technical support – phone consulting – 90 days |
Environmental Parameters
| | |
| --- | --- |
| Min Operating Temperature | 23 ?F |
| Max Operating Temperature | 113 ?F |
| Humidity Range Operating | 10 – 95% (non-condensing) |
| Min Storage Temperature | -40 ?F |
| Max Storage Temperature | 158 ?F |