Refurbished JL558A Switch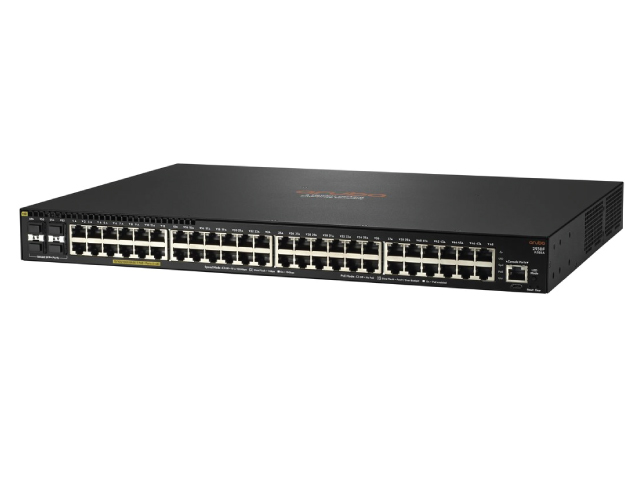 Refurbished HPE Aruba 2930F 48 Ports Layer 3 Managed Switch
| | |
| --- | --- |
| Weight | 16 lbs |
| Dimensions | 23 × 19 × 5 in |
| SKU | JL558A |
| Condition | Refurbished |
| Brand | HPE |
| GTIN | 0 1 90017219660 |
Email at sales@d-ziner.com for bulk discounts
Images, dimensions, weight, and other product details are for reference only. Please confirm with us via chat or sales@d-ziner.com if you need specific details regarding the product.
HPE Aruba 2930F 48G PoE+ 4SFP+ – Switch – L3 – managed – 48 x 10/100/1000 (PoE+) + 4 x 1 Gigabit / 10 Gigabit SFP+ (uplink) – rack-mountable – PoE+ (740 W)
The Aruba 2930F Switch Series is designed for customers creating digital workplaces optimized for mobile users. These Layer 3 access switches are easy to deploy and manage with advanced security and network management tools like Aruba ClearPass Policy Manager, Aruba AirWave and cloud-based Aruba Central. Virtual Switching Framework (VSF) provides stacking scale and simplicity for enterprise edge, SMB and branch offices. The 2930F delivers performance and value with support for RIP routing, Access OSPF, 10GbE uplinks, up to 740W PoE+, robust QoS, and requires no software licensing.
WHAT'S IN THE BOX – Aruba 2930F 48G PoE+ 4SFP+ – Mounting screws, 4 mounting ears, 4 bumper feet, cable tie.
MAIN SPECIFICATIONS

Product Description
HPE Aruba 2930F 48G PoE+ 4SFP+ – switch – 48 ports – managed – rack-mountable
Device Type
Switch – 48 ports – L3 – managed – stackable
Enclosure Type
Rack-mountable 1U
Subtype
Gigabit Ethernet
Ports
48 x 10/100/1000 (PoE+) + 4 x 1 Gigabit / 10 Gigabit SFP+ (uplink)
Power Over Ethernet (PoE)
PoE+
PoE Budget
740 W
Performance
Throughput: 112 Mpps – Switching capacity: 176 Gbps – Latency (1 Gbps): 3.8 s – Latency (10 Gbps): 1.6 s
Capacity
Jumbo frame size: 9220 – IPv4 routing table entries: 10000 – IPv6 routing table entries: 5000
MAC Address Table Size
32K entries
Routing Protocol
OSPF, RIP, RIP-1, RIP-2, BGP, IGMPv2, IGMP, OSPFv2, static IP routing, IGMPv3, OSPFv3, static IPv4 routing, static IPv6 routing, RIPng, MLD, CIDR
Remote Management Protocol
SNMP 1, SNMP 2, RMON 1, SNMP, Telnet, SNMP 3, SNMP 2c, SSH, SSH-2, CLI, XRMON
Features
Flow control, full duplex capability, DHCP support, BOOTP support, ARP support, VLAN support, IGMP snooping, Syslog support, DiffServ support, IPv6 support, SNTP support, sFlow, Spanning Tree Protocol (STP) support, Multiple Spanning Tree Protocol (MSTP) support, Access Control List (ACL) support, Quality of Service (QoS), Jumbo Frames support, DHCP server, STP Root Guard, Uni-Directional Link Detection (UDLD), LLDP support, Link Aggregation Control Protocol (LACP), Management Information Base (MIB), MAC address lockout, dynamic ARP protection, DHCP protection, Dynamic VLAN Support (GVRP), Multiple VLAN Registration Protocol (MVRP), Neighbor Discovery Protocol (NDP), Class of Service (CoS), Type of Service (ToS), OpenFlow support, CPU protection, Internet Control Message Protocol (ICMP), ICMP Router Discovery Protocol (IRDP), Virtual Extensible LAN (VXLAN), Management Information Base (MIB) II
Compliant Standards
IEEE 802.1D, IEEE 802.1Q, IEEE 802.1p, IEEE 802.3af, IEEE 802.3x, IEEE 802.3ad (LACP), IEEE 802.1w, IEEE 802.1x, IEEE 802.1s, IEEE 802.1ad, IEEE 802.1v, IEEE 802.1ab (LLDP), IEEE 802.3at, IEEE 802.3az, IEEE 802.1AX
Power
AC 120/230 V (50/60 Hz)
Dimensions (WxDxH)
17.4 in x 12 in x 1.7 in
Weight
9.83 lbs
Manufacturer Warranty
Not Applicable

EXTENDED SPECIFICATIONS

General
Device Type
Switch – 48 ports – L3 – managed – stackable
Enclosure Type
Rack-mountable 1U
Subtype
Gigabit Ethernet
Ports
48 x 10/100/1000 (PoE+) + 4 x 1 Gigabit / 10 Gigabit SFP+ (uplink)
Power Over Ethernet (PoE)
PoE+
PoE Budget
740 W
Performance
Throughput: 112 Mpps – Switching capacity: 176 Gbps – Latency (1 Gbps): 3.8 s – Latency (10 Gbps): 1.6 s
Capacity
Jumbo frame size: 9220 – IPv4 routing table entries: 10000 – IPv6 routing table entries: 5000
MAC Address Table Size
32K entries
Routing Protocol
OSPF, RIP, RIP-1, RIP-2, BGP, IGMPv2, IGMP, OSPFv2, static IP routing, IGMPv3, OSPFv3, static IPv4 routing, static IPv6 routing, RIPng, MLD, CIDR
Remote Management Protocol
SNMP 1, SNMP 2, RMON 1, SNMP, Telnet, SNMP 3, SNMP 2c, SSH, SSH-2, CLI, XRMON
Encryption Algorithm
MD5, SSL
Authentication Method
RADIUS, PAP, CHAP, TACACS, TACACS+
Features
Flow control, full duplex capability, DHCP support, BOOTP support, ARP support, VLAN support, IGMP snooping, Syslog support, DiffServ support, IPv6 support, SNTP support, sFlow, Spanning Tree Protocol (STP) support, Multiple Spanning Tree Protocol (MSTP) support, Access Control List (ACL) support, Quality of Service (QoS), Jumbo Frames support, DHCP server, STP Root Guard, Uni-Directional Link Detection (UDLD), LLDP support, Link Aggregation Control Protocol (LACP), Management Information Base (MIB), MAC address lockout, dynamic ARP protection, DHCP protection, Dynamic VLAN Support (GVRP), Multiple VLAN Registration Protocol (MVRP), Neighbor Discovery Protocol (NDP), Class of Service (CoS), Type of Service (ToS), OpenFlow support, CPU protection, Internet Control Message Protocol (ICMP), ICMP Router Discovery Protocol (IRDP), Virtual Extensible LAN (VXLAN), Management Information Base (MIB) II
Compliant Standards
IEEE 802.1D, IEEE 802.1Q, IEEE 802.1p, IEEE 802.3af, IEEE 802.3x, IEEE 802.3ad (LACP), IEEE 802.1w, IEEE 802.1x, IEEE 802.1s, IEEE 802.1ad, IEEE 802.1v, IEEE 802.1ab (LLDP), IEEE 802.3at, IEEE 802.3az, IEEE 802.1AX
Processor
1 x ARM Cortex-A9: 1.016 GHz
RAM
1 GB DDR3 SDRAM
Flash Memory
4 GB
Expansion / Connectivity
Interfaces
48 x 1000Base-T RJ-45 PoE+ – 4 x Gigabit / 10Gbit LAN SFP+ – 1 x serial (console)
Expansion Slots
1 (total) / 1 (free) x expansion slot
Installed Modules Qty (Max)
0 (installed) / 4 (max)
Power
Power Device
Internal power supply
Installed Qty
1
Voltage Required
AC 120/230 V (50/60 Hz)
80 PLUS Certification
80 PLUS Silver
Miscellaneous
Included Accessories
Mounting screws, 4 mounting ears, 4 bumper feet, cable tie
Compliant Standards
CISPR 22 Class A, CISPR 24, IEC 61000-3-2, IEC 61000-3-3, IEC 61000-4-11, IEC 61000-4-2, IEC 61000-4-3, IEC 61000-4-4, IEC 61000-4-5, IEC 61000-4-6, IEC 61000-4-8, ICES-003 Class A, UL 60950-1 Second Edition, CSA C22.2 No. 60950-1-07 Second Edition, VCCI Class A, IEC 60825-1:2007, CNS 13438, EN 55024:2010, EN 55022:2010, IEC 60950-1:2005 + A1:2009 + A2:2013, EN 60825-1:2007, FCC CFR47 Part 15 A, EN 60950-1:2006+A11:2009+A1:2010+A12:2011+A2:2013
Software / System Requirements
Software Included
Command Line Interface (CLI), HP Web browser, HP Intelligent Management Center
Dimensions & Weight
Width
17.4 in
Depth
12 in
Height
1.7 in
Weight
9.83 lbs
Manufacturer Warranty
Service & Support
Not Applicable
Environmental Parameters
Min Operating Temperature
32 Degree Fahrenheit
Max Operating Temperature
113 Degree Fahrenheit
Humidity Range Operating
15 – 95% (non-condensing)
Min Storage Temperature
-40 Degree Fahrenheit
Max Storage Temperature
158 Degree Fahrenheit
Humidity Range Storage
15 – 90% (non-condensing)