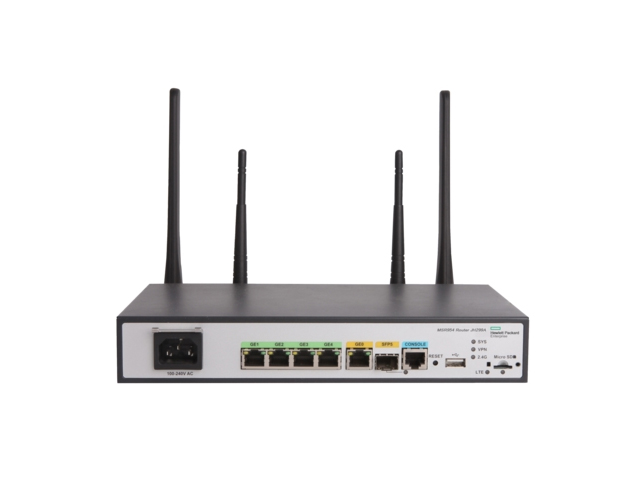 JH298A – HPE MSR954-W (AM) – wireless router – WWAN – 802.11b/g/n – rack-mountable
| | |
| --- | --- |
| Weight | 3 lbs |
| Dimensions | 12 × 7 × 2 in |
| SKU | JH298A |
| Condition | New |
| Brand | HPE |
| GTIN | 0 889296338628 |
Email at sales@d-ziner.com for bulk discounts
Images, dimensions, weight, and other product details are for reference only. Please confirm with us via chat or sales@d-ziner.com if you need specific details regarding the product.
HPE MSR954-W (AM) – Wireless router – WWAN – 4-port switch – GigE – WAN ports: 2 – 802.11b/g/n – 2.4 GHz – rack-mountable
The HPEMSR95x Router Series delivers high-performance, small branch routing in a single, cost-optimized form factor. Featuring integrated routing, switching, wireless, security, and voice with no additional licensing, boost your service delivery while simplifying the management of the corporate WAN. This series is flexible to deploy, with Zero Touch Provisioning and WAN options with LTE connectivity. With Comware v7 and fiber connections, the MSR95x also brings the performance and advanced services available on modular routers, such as IPS and high encryption, to a fixed port form factor.
WHAT'S IN THE BOX – (1) HPEFlexNetwork MSR954-W 1GbE SFP LTE (AM) 2GbE-WAN 4GbE-LAN Wireless 802.11n CWv7 Router,(1) AC adapter, (2) LTE Antennas, (2) 802.11b/g/n 2.4GHz Antennas, (1) Compliance and Safey Manual, (1) Console cable, (1) Warranty card
Reduces Complexity and Simplifies Your Network
The HPEMSR95x Router Series provides a Converged Infrastructure (CI) with integrated routing, switching, security, voice, and cellular WAN delivering high-performance small branch routing.
Makes administration easier when using the HPEIntelligent Management Center (IMC) Software.
Reduces management complexity with zero-touch deployment (ZTD) and Auto Discovery VPN (ADVPN).
Delivers increased flexibility in Comware v7 OS environments across multiple routers.
Enhances Time to Service and Branch Performance
The HPEMSR95x Router Series offers high-performance routing with up to 300 Kpps forwarding.
Simplifies your network with OpenFlow and Zero Touch Provisioning.
Deploys rich features with Comware v7 security, including IPS with high encryption, and dual gigabit WAN ports that support fiber and copper connections.
Supports branch services with a comprehensive feature set, including IPv4 and IPv6 routing, MPLS, QoS, NAT, and VPN services.
Increases Your Return on Your Investment
The HPEMSR95x Router Series offers an extensive range of models and accessories to enable the right design for your business, in a compact fixed-port platform.
Reduces your TCO through open standards, power and space savings, and energy-efficient hardware.
Deploy advanced features with no additional licensing.
Boost Agility and Resiliency.
The HPEMSR95x Router Series delivers branch service and business continuity with multiple network options including dual gigabit WAN, dual 3G/4G LTE WAN, and built-in WLAN.
With advanced hardware architecture, the MSR95X Router Series provides reliable, high-performance functionality
Gives you an open standards approach to your network infrastructure.
MAIN SPECIFICATIONS

Product Description
HPEMSR954-W (AM) – wireless router – WWAN – 802.11b/g/n – rack-mountable
Device Type
Wireless router – wireless cellular modem – 4-port switch (integrated)
Enclosure Type
Rack-mountable – 1U
Cellular Protocol
GSM, GPRS, EDGE, CDMA 2000 1X EV-DO Rev. A, HSPA+, LTE
WAN Ports Qty
2
Data Link Protocol
Ethernet, Fast Ethernet, Gigabit Ethernet, IEEE 802.11b, IEEE 802.11g, IEEE 802.11n
Frequency Band
2.4 GHz
Performance
Encryption throughput: up to 160 Mbps ? Throughput (64-byte packet size): up to 300 Kpps
Capacity
VPN tunnels: 100 ? IPv4 routing table entries: 10000 ? IPv6 routing table entries: 5000 ? IPv4 forwarding table entries: 10000 ? IPv6 forwarding table entries: 5000
Network / Transport Protocol
TCP/IP, UDP/IP, NTP, IPSec, ARP, DHCP
Routing Protocol
OSPF, EGP, BGP-4, IS-IS, RIP-1, RIP-2, IGMPv2, IGMP, PIM-SM, PIM-DM, IGMPv3, OSPFv3, PIM-SSM, Bidirectional PIM, MSDP, static IPv4 routing, static IPv6 routing, ECMP, RIPng, BGP-4+, MPLS, BGP+
Remote Management Protocol
SNMP 1, SNMP 2, RMON, Telnet, SNMP 3, TFTP, CLI
Features
NAT support, MPLS support, VLAN support, port mirroring, Weighted Random Early Detection (WRED), sFlow, Spanning Tree Protocol (STP) support, Rapid Spanning Tree Protocol (RSTP) support, Virtual Route Redundancy Protocol (VRRP) support, Multiple Spanning Tree Protocol (MSTP) support, tunneling, Access Control List (ACL) support, Quality of Service (QoS), Committed Access Rate (CAR), Unicast Reverse Path Forwarding (URPF), DHCP relay, Management Information Base (MIB), port isolation, packet storm protection, Loopback, Dynamic Virtual Private Network (DVPN), Multicast Border Gateway Protocol (MBGP), random early detection (RED)
Compliant Standards
IEEE 802.2, IEEE 802.3, IEEE 802.1D, IEEE 802.1Q, IEEE 802.1p, IEEE 802.3ad (LACP), IEEE 802.1w, IEEE 802.1x, IEEE 802.1s
Power
AC 120/230 V
Dimensions (WxDxH)
10.5 in x 6.3 in x 1.7 in
Weight
2.2 lbs
Manufacturer Warranty
1-year warranty

EXTENDED SPECIFICATIONS

General
Device Type
Wireless router – 4-port switch (integrated)
Enclosure Type
Rack-mountable – 1U
Connectivity Technology
Wireless, wired
Data Link Protocol
Ethernet, Fast Ethernet, Gigabit Ethernet, IEEE 802.11b, IEEE 802.11g, IEEE 802.11n
Frequency Band
2.4 GHz
Performance
Encryption throughput: up to 160 Mbps ? Throughput (64-byte packet size): up to 300 Kpps
Capacity
VPN tunnels: 100 ? IPv4 routing table entries: 10000 ? IPv6 routing table entries: 5000 ? IPv4 forwarding table entries: 10000 ? IPv6 forwarding table entries: 5000
Network / Transport Protocol
TCP/IP, UDP/IP, NTP, IPSec, ARP, DHCP
Routing Protocol
OSPF, EGP, BGP-4, IS-IS, RIP-1, RIP-2, IGMPv2, IGMP, PIM-SM, PIM-DM, IGMPv3, OSPFv3, PIM-SSM, Bidirectional PIM, MSDP, static IPv4 routing, static IPv6 routing, ECMP, RIPng, BGP-4+, MPLS, BGP+
Remote Management Protocol
SNMP 1, SNMP 2, RMON, Telnet, SNMP 3, TFTP, CLI
Encryption Algorithm
DES, Triple DES, MD5, SHA-1, 128-bit AES, 192-bit AES, 256-bit AES
Authentication Method
Secure Shell (SSH), RADIUS, TACACS+, Secure Shell v.2 (SSH2)
Features
NAT support, MPLS support, VLAN support, port mirroring, Weighted Random Early Detection (WRED), sFlow, Spanning Tree Protocol (STP) support, Rapid Spanning Tree Protocol (RSTP) support, Virtual Route Redundancy Protocol (VRRP) support, Multiple Spanning Tree Protocol (MSTP) support, tunneling, Access Control List (ACL) support, Quality of Service (QoS), Committed Access Rate (CAR), Unicast Reverse Path Forwarding (URPF), DHCP relay, Management Information Base (MIB), port isolation, packet storm protection, Loopback, Dynamic Virtual Private Network (DVPN), Multicast Border Gateway Protocol (MBGP), random early detection (RED)
Compliant Standards
IEEE 802.2, IEEE 802.3, IEEE 802.1D, IEEE 802.1Q, IEEE 802.1p, IEEE 802.3ad (LACP), IEEE 802.1w, IEEE 802.1x, IEEE 802.1s, ETSI, EN55022, ICES-003 Class B, FCC Part 68 / CS03 Issue 8, EN 61000-4-4, EN 61000-4-2, EN 61000-4-3, EN 61000-4-6, EN 61000-4-5, RoHS, EN 61000-4-8, UL 60950-1, IEC 60950-1, EN 60950-1, WEEE, FDA, FCC CFR47 Part 15 B, EN 60825-1, AS/NZS 60950, ANSI C63.4, EN 60825-2, CAN/CSA C22.2 No. 60950-1-03, EN 61000-3-2:2006, EN 61000-3-3:1995+A1:2001+A2:2005, EN 61000-4-11:2004, EMC 2004/108/EC, EN 300 386 V1.3.3, AS/NZS CISPR 22 Class B, CAN/CSA-C22.2 No. 60950-1, EN 55024:1998+A1:2001+A2:2003
Processor
1 x Marvell A370 800 MHz
RAM
1 GB DDR3 SDRAM
Flash Memory
256 MB
Communications
Type
Wireless cellular modem
Cellular Protocol
GSM, GPRS, EDGE, CDMA 2000 1X EV-DO Rev. A, HSPA+, LTE
Expansion / Connectivity
Interfaces
1 x Ethernet 1000 – SFP (mini-GBIC) ? WAN: 1 x Ethernet 1000 – RJ-45 ? LAN: 4 x Ethernet 1000 – RJ-45 ? 2 x USB 2.0
Power
Power Device
Internal power supply
Voltage Required
AC 120/230 V
Power Consumption Operational
22 Watt
Software / System Requirements
OS Provided
Comware v7
Dimensions & Weight
Width
10.5 in
Depth
6.3 in
Height
1.7 in
Weight
2.2 lbs
Manufacturer Warranty
Service & Support
Limited warranty – 1 year
Environmental Parameters
Min Operating Temperature
32 ?F
Max Operating Temperature
113 ?F
Humidity Range Operating
5 – 92% (non-condensing)