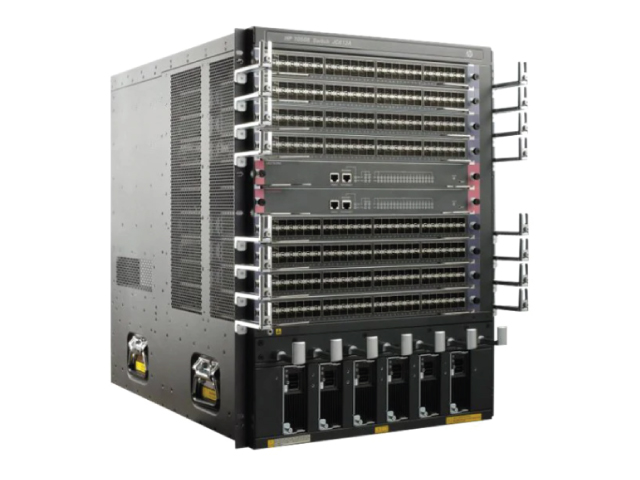 JC612A – HPE FlexNetwork 10508 Switch Chassis – Switch – L3 – managed – rack-mountable.
| | |
| --- | --- |
| Weight | 256 lbs |
| SKU | JC612A |
| Condition | New |
| Brand | HPE |
| GTIN | 0 886111414505 |
Email at sales@d-ziner.com for bulk discounts
Images, dimensions, weight, and other product details are for reference only. Please confirm with us via chat or sales@d-ziner.com if you need specific details regarding the product.
HPE FlexNetwork 10508 Switch Chassis – Switch – L3 – managed – rack-mountable
The HPE10500 Switch Series is an enterprise campus core switch designed to meet the evolving needs of a cloud-connected and rich-media-capable infrastructure. It sets a benchmark for performance, reliability, and scalability with powerful Clos architecture (multistage switching network), offers 3-microsecond latency, delivers ultra-high 1/10/40GbE port density and supports 100GbE. With HPEIntelligent Resilient Fabric (IRF) technology, the 10500 Switch Series can be virtualized across four chassis with a single management interface-enabling flatter, more agile networks.
WHAT'S IN THE BOX – (1)? HPEFlexNetwork 10508 Switch Chassis
Performance, Reliability and Future-proof Scalability for the Campus
The HPE10500 Switch Series provides a high-speed, fully distributed Clos architecture (multistage switching network) with up to 11.52 Tbps switching capacity and up to 13.72 Tbps switching fabric capacity to meet the demands of bandwidth-intensive applications today and in the future.
Delivers ultra-high 1/10/40GbE port density and very low latency. With 12 interface module slots, the switch can provide 144x40GbE ports, 576x10GbE ports, or 576x1GbE ports. It also offers a choice of a 4-, 8-, and 12-slot chassis.
HPE Intelligent Resilient Fabric (IRF) allows up to four 10500 Switch Series chassis to be virtualized into a single switching/routing fabric that can support more than 2,300 line-rate 10GbE ports or 576 line-rate 40GbE ports.
No hidden costs with license-free Layer 2 and 3 feature set including IPv6, MPLS functionality, and robust Quality of Service (QoS).
Optimized Architecture for a Cloud-connected and Media-rich Network
The HPE10500 Switch Series delivers a Clos architecture (multistage switching network) simplifying large-scale switching architecture deployements, reducing possible fault points, and providing stronger defense capabilities.
HPE Comware 7, an advanced modular operating system, has native high stability, independent process monitoring, and modular design to easily restart processes for seamless upgrades to individual software modules, enhancing serviceability and greater availability.
Fully featured with included software upgrades to support network deployments across the campus core to aggregation.
Open application architecture enables fully-integrated high-performance application-specific modules.
Robust Security and QoS Controls
The HPE10500 Switch Series includes a robust set of security and quality of services features to build a highly trusted network that meets your ever-changing corporate policies and compliances.
Flexible authentication options include 802.1X, MAC and Web Authentication, and Endpoint Admission Defense, providing you with increased security and policy-driven application authentication.
Advanced distributed denial of service (DDOS) protection, such as DHCP Snooping, IP Source Guard, and ARP Protection, and flexible traffic controls, such as policy-based routing, QoS, and ACLs, are available to manage end-to-end application priorities.
Included with 10500 Series Switches are a powerful set of multilevel-access security controls, such as varying security management login, RADIUS, SSH, TACACS/TACACS+, to protect and control change management access.
Single Management View of the Network
The HPEFlexNetwork 10500 Switch Series can be managed as a part of a larger network with HPEIntelligent Management Center (IMC) Software.
IMC provides end-to-end visibility and control of the wired network through comprehensive configuration, compliance and policy management.
IMC functions seamlessly in a multivendor network environment providing ease of management across the network edge to data center.
IMC supports port and traffic mirroring, RMON and sFlow.
MAIN SPECIFICATIONS

Product Description
HPEFlexNetwork 10508 Switch Chassis – switch – managed – rack-mountable
Device Type
Switch – L3 – managed
Enclosure Type
Rack-mountable 14U
Subtype
100 Gigabit Ethernet
Jumbo Frame Support
Yes
Routing Protocol
OSPF, BGP-4, IS-IS, RIP-1, RIP-2, BGP, IGMPv2, IGMP, VRRP, OSPFv2, PIM-SM, PIM-DM, IGMPv3, OSPF for IPv6, GRE, OSPFv3, Multiprotocol BGP, MSDP, static IPv4 routing, static IPv6 routing, RIPng, MLDv2, MLD, MPLS
Remote Management Protocol
SNMP 1, RMON 1, RMON 2, RMON 3, RMON 9, Telnet, SNMP 3, SNMP 2c, SSH, SSH-2, CLI, NTP
Features
Flow control, firewall protection, DHCP support, NAT support, VPN support, ARP support, MPLS support, IGMP snooping, Syslog support, port mirroring, IPv6 support, sFlow, DHCP snooping, Trivial File Transfer Protocol (TFTP) support, Access Control List (ACL) support, Quality of Service (QoS), Jumbo Frames support, MLD snooping, Endpoint Admission Defense (EAD), IPv4 support, fan tray
Compliant Standards
IEEE 802.1D, IEEE 802.1Q, IEEE 802.1p, IEEE 802.1w, IEEE 802.1x, IEEE 802.1s
Power
AC 120/230 V (50/60 Hz)
Power Redundancy
Yes
Dimensions (WxDxH)
17.3 in x 26 in x 24.4 in
Weight
125 lbs
Manufacturer Warranty
1-year warranty

EXTENDED SPECIFICATIONS

General
Device Type
Switch – L3 – managed
Enclosure Type
Rack-mountable 14U
Subtype
100 Gigabit Ethernet
Jumbo Frame Support
Yes
Routing Protocol
OSPF, BGP-4, IS-IS, RIP-1, RIP-2, BGP, IGMPv2, IGMP, VRRP, OSPFv2, PIM-SM, PIM-DM, IGMPv3, OSPF for IPv6, GRE, OSPFv3, Multiprotocol BGP, MSDP, static IPv4 routing, static IPv6 routing, RIPng, MLDv2, MLD, MPLS
Remote Management Protocol
SNMP 1, RMON 1, RMON 2, RMON 3, RMON 9, Telnet, SNMP 3, SNMP 2c, SSH, SSH-2, CLI, NTP
Encryption Algorithm
MD5, AES, TLS, PEAP, TTLS, TKIP, WEP
Authentication Method
Secure Shell (SSH), RADIUS, TACACS+, Secure Shell v.2 (SSH2), Extensible Authentication Protocol (EAP)
Features
Flow control, firewall protection, DHCP support, NAT support, VPN support, ARP support, MPLS support, IGMP snooping, Syslog support, port mirroring, IPv6 support, sFlow, DHCP snooping, Trivial File Transfer Protocol (TFTP) support, Access Control List (ACL) support, Quality of Service (QoS), Jumbo Frames support, MLD snooping, Endpoint Admission Defense (EAD), IPv4 support, fan tray
Compliant Standards
IEEE 802.1D, IEEE 802.1Q, IEEE 802.1p, IEEE 802.1w, IEEE 802.1x, IEEE 802.1s
Processor
: 1.2 GHz
RAM
8 GB DDR2 SDRAM
Flash Memory
512 MB
Expansion / Connectivity
Interfaces
1 x serial (RS-232) DB-9 management
Expansion Slots
2 (total) / 2 (free) x MPU ? 4 (total) / 4 (free) x fabric module slot ? 8 (total) / 8 (free) x expansion slot
Installed Modules Qty (Max)
0 (installed) / 14 (max)
Power
Power Device
Internal power supply
Installed Qty
0 (installed) / 6 (max)
Power Redundancy
Yes
Power Provided
2500 Watt
Voltage Required
AC 120/230 V (50/60 Hz)
Miscellaneous
Rack Mounting Kit
Included
Compliant Standards
FCC Class A certified, CISPR 22 Class A, EN 61000-3-2, IEC 61000-3-2, IEC 61000-3-3, VCCI Class A ITE, EN 61000-3-3, EN55022 Class A, EN 61000-4-4, EN 61000-4-2, EN 61000-4-3, EN 61000-4-6, EMC, ICES-003 Class A, EN 61000-4-5, EN 61000-4-11, RoHS, FCC CFR47 Part 15, EN 61000-4-8, UL 60950-1, IEC 60950-1, WEEE, CSA C22.2 No. 60950-1, EN 60825-1, EN 300 386
Dimensions & Weight
Width
17.3 in
Depth
26 in
Height
24.4 in
Weight
125 lbs
Manufacturer Warranty
Service & Support
Limited warranty – 1 year
Environmental Parameters
Min Operating Temperature
32 ?F
Max Operating Temperature
113 ?F
Humidity Range Operating
10 – 95% (non-condensing)
Min Storage Temperature
-40 ?F
Max Storage Temperature
158 ?F
Humidity Range Storage
5 – 95% (non-condensing)