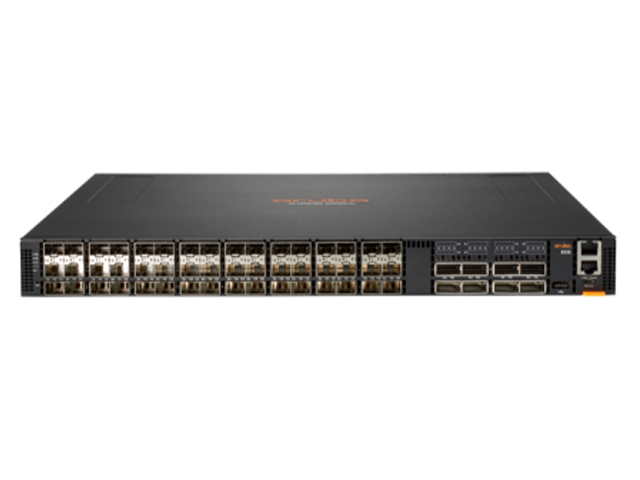 Actual product may vary from the images
JL624A New HPE Aruba 8325 48-port 25G SFP/+/28 8p 100G QSFP+/28 – 6 Fans and 2 PS Bundle
MPN: JL624A | UPC: 190017 327785 | CONDITION: New
JL624A HPE Aruba 8325 48-port 25G SFP/+/28 8p 100G QSFP+/28 – 6 Fans and 2 PS Bundle
Introduction
Welcome to our in-depth exploration of the JL624A HPE Aruba 8325 48-port 25G SFP/+/28 8p 100G QSFP+/28 – 6 Fans and 2 PS Bundle. If you're looking for a powerful networking solution, you've come to the right place. In this article, we'll delve into this impressive bundle, covering everything from its specifications to its applications. Let's get started!
JL624A Specifications
Type: 48-port SFP28 (1/10/25 GbE) and 8-port QSFP28 (40/100 GbE) switch with six front-to-back fans and two front-to-back power supplies.
Power consumption: Max: 550W
Input voltage: 100-240VAC
Ports: (48) 25G SFP28 ports and (8) 100G QSFP28 ports
Routing/switching capacity: 6.4 Tbs, maximum
Switch fabric speed: 6.4 Tbps
Switching capacity: High-speed fully distributed architecture
Provides 6.4Tbps for switching and 2,000 Mpps for forwarding. All switching and routing are wire-speed to meet the demands of bandwidth-intensive applications today and in the future.
Stacking capabilities: These switches serve the needs of the next generation core and aggregation layer, as well as emerging data center
requirements at the Top of Rack (ToR) and End of Row (EoR)
Throughput: 1,905 Mpps, maximum
Memory and processor: CPU 2.2GHz
Memory, Drive and Flash 16GB RAM, 64GB SSD, 8GB Flash
Packet Buffer 32MB
Power supply name: Field-replaceable, hot-swappable, and up to 2 power supplies.
Management features: Industry-standard CLI with hierarchical structure, SNMP v2c/v3, sFlow (RFC 3176), remote monitoring (RMON)
Warranty: See https://www.arubanetworks.com/assets/support/warranty-summary.pdf for warranty and support information included with your product purchase.5-year Warranty (purchased prior to November 1st 2019)
Limited Lifetime (purchased after November 1st, 2019)
Detailed product description
1 x JL635A base 8325-48Y8C switch
6 x JL628A Front-to-Back Fan
2 x JL632A Front-to-Back 650W 100-240VAC Power Supply
Weight: 10.0 kg (22.1 lbs)
Dimensions: 43.2 x 438.4 x 535.9 mm (1.70 x 17.26 x 21.10 in)
JL624A HPE Aruba 8325 Overview
The JL624A HPE Aruba 8325 is a networking powerhouse designed to meet the demands of modern businesses. It boasts a remarkable combination of features that make it stand out in the market. Let's take a closer look:
Applications
The JL624A HPE Aruba 8325 is versatile and can be used in various scenarios:
Data Centers: It's an excellent choice for data centers where high-speed connectivity and reliability are crucial.
Enterprise Networks: Large organizations benefit from its robust performance and redundancy features.
High-Traffic Environments: If your network experiences heavy traffic, this bundle can handle it with ease.
Advantages of Choosing JL624A HPE Aruba 8325
When investing in networking equipment, you want to ensure it provides real value. Here are some advantages of choosing the JL624A HPE Aruba 8325:
Reliability: With redundant power supplies and efficient cooling, you can trust this bundle to keep your network up and running.
High-Speed Connectivity: The 25G and 100G ports ensure that data flows smoothly, even in demanding situations.
Scalability: As your network grows, you can easily scale up by adding more devices to the JL624A HPE Aruba 8325.
Using JL624A HPE Aruba 8325 in Your Network
Integrating this bundle into your network is a straightforward process. Here's how you can make the most of it:
Installation: Start by installing the hardware in your rack or data center. Ensure proper ventilation to maximize performance.
Configuration: Configure the bundle according to your network's requirements. You can set up VLANs, routing, and other parameters to suit your needs.
Monitoring: Regularly monitor the device to ensure it's operating optimally. Utilize the built-in management tools to keep an eye on your network's health.
FAQs
Can I add more ports to the JL624A HPE Aruba 8325?
Yes, the JL624A HPE Aruba 8325 is scalable, allowing you to add more ports as needed to accommodate your growing network.
Is it suitable for small businesses?
While this bundle is powerful, it's often more than what small businesses need. It's best suited for large enterprises and data centers.
How do I troubleshoot common issues with the JL624A HPE Aruba 8325?
For common issues, consult the user manual, or you can contact HPE Aruba's customer support for assistance.
What are the power requirements for this bundle?
The JL624A HPE Aruba 8325 typically requires standard power input. Ensure your data center or rack has the appropriate power infrastructure in place.
Can I use third-party optics with this bundle?
While it's possible to use third-party optics, it's recommended to use HPE Aruba-compatible optics to ensure optimal performance and compatibility.
Conclusion
In conclusion, the JL624A HPE Aruba 8325 48-port 25G SFP/+/28 8p 100G QSFP+/28 – 6 Fans and 2 PS Bundle is a remarkable networking solution with a range of benefits, including high-speed connectivity, scalability, and reliability. Whether you're managing a data center or a large enterprise network, this bundle has you covered. Invest in the future of your network with the JL624A HPE Aruba 8325.
Smart Links
Weight and dimensions for JL624A?
| | |
| --- | --- |
| Weight | 23 lbs |
| Dimensions | 22 × 18 × 2 in |
| SKU | JL624A |
| Condition | New |
| Brand | HPE |
| GTIN | 190017 327785 |
The warranty for refurbished units is 30 days.
The warranty for New units is as per the manufacturer's terms and conditions.
Request for Bulk Discount