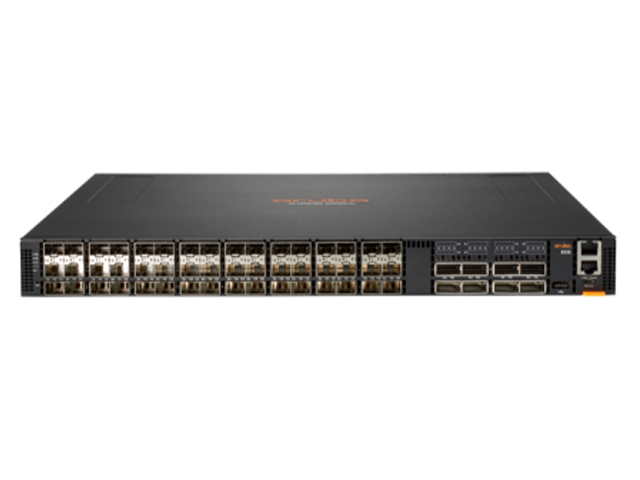 Actual product may vary from the images
JL625A New HPE Aruba 8325 48-port 25G SFP/+/28 8p 100G QSFP+/28 – 6 Fans and 2 PS Bundle
MPN: JL625A | UPC: 190017 328027 | CONDITION: New
JL625A HPE Aruba 8325 48-port 25G SFP/+/28 8p 100G QSFP+/28 – 6 Fans and 2 PS Bundle: Unveiling a High-Performance Network Solution
Introduction
In the world of networking, where speed, reliability, and scalability are paramount, the JL625A HPE Aruba 8325 48-port 25G SFP/+/28 8p 100G QSFP+/28 – 6 Fans and 2 PS Bundle stands out as a powerhouse solution. This article will take you on a journey through this advanced network bundle, providing insights, answers to frequently asked questions, and everything you need to know about its capabilities.
JL625A Specifications
Differentiator: 48-port SFP28 (1/10/25 GbE) and 8-port QSFP28 (40/100 GbE) switch with six back-to-front fans and two back-to-front power supplies.
Power consumption: Max: 550W
Input voltage: 100-240VAC
Ports(48) 25G SFP28 ports and (8) 100G QSFP28 ports
Routing/switching capacity: 6.4 Tbs, maximum
Switch fabric speed: 6.4 Tbps
Switching capacity: High-speed fully distributed architecture
Provides 6.4Tbps for switching and 2,000 Mpps for forwarding. All switching and routing are wire-speed to meet the demands of bandwidth-intensive applications today and in the future.
Stacking capabilities: These switches serve the needs of the next generation core and aggregation layer, as well as emerging data center
requirements at the Top of Rack (ToR) and End of Row (EoR)
Throughput: 1,905 Mpps, maximum
Memory and processor: CPU 2.2GHz
Memory, Drive and Flash 16GB RAM, 64GB SSD, 8GB Flash
Packet Buffer 32MB
Power supply name: Field-replaceable, hot-swappable, and up to 2 power supplies.
Management features: Industry-standard CLI with hierarchical structure, SNMP v2c/v3, sFlow (RFC 3176), remote monitoring (RMON)
Warranty: See https://www.arubanetworks.com/assets/support/warranty-summary.pdf for warranty and support information included with your product purchase.5-year Warranty (purchased prior to November 1st 2019)
Limited Lifetime (purchased after November 1st, 2019)
Detailed product description
1 x JL635A base 8325-48Y8C switch
6 x JL629A Back-to-Front Fan
2 x JL633A Back-to-Front 650W 100-240VAC Power Supply
Weight: 10.0 kg (22.1 lbs)
Dimensions: 43.2 x 438.4 x 535.9 mm (1.70 x 17.26 x 21.10 in)
Overview of JL625A HPE Aruba 8325 48-port 25G SFP/+/28 8p 100G QSFP+/28 – 6 Fans and 2 PS Bundle
The JL625A HPE Aruba 8325 is a high-performance networking bundle designed to meet the demands of modern businesses. Let's delve into the key aspects:
High Port Density
With 48 ports supporting 25G SFP/+, this bundle ensures that your network can handle large volumes of data with ease. Whether you're a small business or an enterprise, this level of port density is a game-changer.
Blazing Fast 100G Connectivity
The 8 ports of 100G QSFP+/28 provide lightning-fast connectivity, perfect for data centers and environments where speed is critical. Your network will be future-proofed for years to come.
Robust Cooling System
Featuring 6 fans, this bundle ensures optimal temperature control, preventing overheating and ensuring the longevity of your networking equipment.
Redundant Power Supplies
With 2 power supplies, you'll have peace of mind knowing that your network won't go down due to power failures. Redundancy is key in mission-critical operations.
Scalability
The JL625A HPE Aruba 8325 is designed to grow with your business. Its modular design allows you to expand and upgrade your network infrastructure seamlessly.
Security Features
Security is a top priority, and this bundle doesn't disappoint. It offers advanced security features to protect your data and network from threats.
Why Choose JL625A HPE Aruba 8325 48-port 25G SFP/+/28 8p 100G QSFP+/28 – 6 Fans and 2 PS Bundle?
Unmatched Performance
When it comes to network performance, this bundle is a true champion. It ensures high-speed data transfer, minimal latency, and reliability, all crucial for business success.
Reliability and Redundancy
The redundancy in power supplies and the robust cooling system make this bundle a reliable choice for businesses that can't afford downtime.
Future-Proofing
Investing in the JL625A HPE Aruba 8325 means you're future-proofing your network. With 100G ports, you'll be prepared for the increasing demands of data-intensive applications.
Scalability
Growing businesses need networking solutions that can scale effortlessly. This bundle's modular design allows you to expand as needed.
Security
With the ever-present threat of cyberattacks, the security features of this bundle are indispensable. Protect your data and keep your network secure.
JL625A HPE Aruba 8325: FAQs
Q: What industries can benefit from the JL625A HPE Aruba 8325 bundle?
A: This bundle is versatile and suitable for a wide range of industries, including healthcare, finance, education, and manufacturing.
Q: Can I add more fans to the cooling system if needed
A: Yes, you can expand the cooling system by adding additional fans to ensure optimal temperature control.
Q: Is it challenging to upgrade the network as my business grows?
A: Not at all. The modular design of the JL625A HPE Aruba 8325 makes upgrading and expanding your network infrastructure straightforward.
Q: What security features does this bundle offer?
A: It provides features such as intrusion detection and prevention, firewall capabilities, and secure access control to safeguard your network.
Q: Are there any industry certifications for this product?
A: Yes, this bundle is certified for various industry standards, ensuring compliance and reliability.
Q: How do I maintain the power supplies?
A: Routine maintenance involves checking the power supplies' status indicators and ensuring they are functioning correctly.
Conclusion
In conclusion, the JL625A HPE Aruba 8325 48-port 25G SFP/+/28 8p 100G QSFP+/28 – 6 Fans and 2 PS Bundle is a top-tier networking solution that combines high performance, reliability, and security. Whether you're a small business or a large enterprise, investing in this bundle will set you on the path to a future-proof and secure network infrastructure.
Explore the possibilities that this networking solution offers and elevate your business to new heights with unmatched connectivity and performance.
Smart Links
Weight and dimensions for JL625A?
| | |
| --- | --- |
| Weight | 23 lbs |
| Dimensions | 22 × 18 × 2 in |
| SKU | JL625A |
| Condition | New |
| Brand | HPE |
| GTIN | 190017 328027 |
The warranty for refurbished units is 30 days.
The warranty for New units is as per the manufacturer's terms and conditions.
Request for Bulk Discount