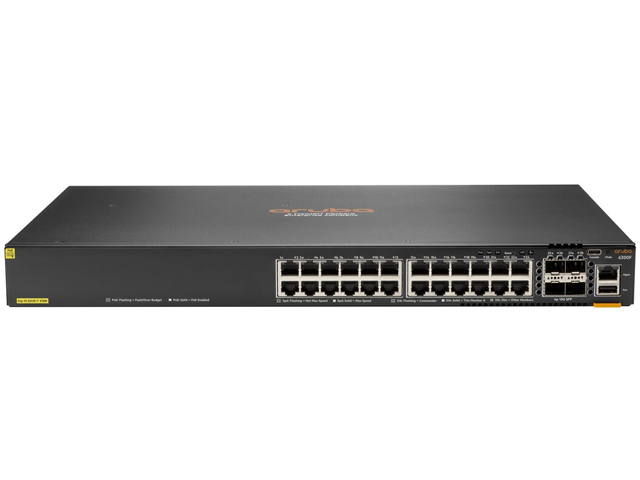 Actual product may vary from the images
JL725A New HPE Aruba 6200F 24G Class4 PoE 4SFP+ 370W Switch
MPN: JL725A | UPC: 190017 408507 | CONDITION: New
JL725A Aruba 6200F 24G Class4 PoE 4SFP+ 370W Switch: Empowering Networks
Introduction
In the dynamic landscape of networking infrastructure, the demand for powerful and feature-rich switches continues to rise. The JL725A Aruba 6200F 24G Class4 PoE 4SFP+ 370W Switch stands at the forefront, offering a compelling blend of performance, Power over Ethernet (PoE) capabilities, and advanced management features. This article explores the key attributes that make the Aruba JL725A a noteworthy choice for organizations seeking to optimize their network environments.
Specifications of JL725A
Power consumption: 65W at 230 VAC
Input voltage: 100V-120V/200V-240V
Ports: 24x 10/100/1000BASE-T Class 4 PoE ports, 4x 1/10G SFP ports, Supports PoE Standards, IEEE 802.3af, 802.3at, 1x USB-C Console Port, 1x OOBM, 1x USB Type-A Host port, 1x Bluetooth Adapter to be used with Aruba CX Mobile App
Latency: 1 Gbps: 2.28 μSec, 10 Gbps: 1.46 μSec
Routing/switching capacity: 128 Gbps
Stacking capabilities: 8 members
Throughput: Up to 95.2 Mpps
Memory and processor: Quad Core ARM Cortex™ A72 @ 1.8 GHz
Power supply name: Fixed power supply (500W), Up to 370W of Class 4 PoE Power
PoE capability: 370W
Weight: 4.90 kg (10.80 lbs)
Dimensions: 4.39 x 44.2 cm x 32.7 cm (1.73 x 17.4 x 12.9 in)
Power and Connectivity
At the core of the Aruba 6200F (JL725A) lies a robust architecture designed to deliver exceptional performance and connectivity. Boasting 24 Gigabit Ethernet ports, this switch provides a solid foundation for building high-speed local area networks (LANs). Moreover, the inclusion of four Small Form-Factor Pluggable Plus (SFP+) ports ensures seamless integration with high-speed fiber-optic networks, catering to the demands of data-intensive applications.
One standout feature of the JL725A is its Class4 PoE capability. With a power budget of 370W, this switch can deliver power to connected devices, such as IP cameras, wireless access points, and VoIP phones, over the Ethernet cables. This eliminates the need for separate power sources for these devices, simplifying deployment and reducing the overall cost of network infrastructure.
Scalability and Flexibility
As organizations grow, so does the need for scalable networking solutions. The Aruba 6200F (JL725A) addresses this demand by supporting stacking of up to eight switches. This stacking capability not only simplifies network management but also enhances redundancy and resiliency.
With the ability to stack switches, organizations can create a cohesive and highly scalable network fabric. This is particularly beneficial for enterprises with expanding operations or evolving network requirements. The stacking feature ensures that as the network grows, the management complexity remains low, fostering a flexible and adaptive networking environment.
Advanced Layer 2 Management
The Aruba JL725A operates at Layer 2 of the OSI model, focusing on data link layer functions. This makes it an ideal choice for organizations looking to efficiently manage local area networks and optimize the performance of connected devices.
The switch supports a range of Layer 2 management features, including VLAN support, Spanning Tree Protocol (STP) for loop prevention, and link aggregation for improved bandwidth utilization. These features collectively contribute to a stable and well-organized network infrastructure, enhancing the overall efficiency of data transfer and communication within the organization.
Enhanced Power over Ethernet (PoE) Capabilities
One of the standout features of the JL725A is its Class4 PoE capability. This switch adheres to the IEEE 802.3at standard, commonly known as PoE+. With a power budget of 370W, it can deliver increased power to connected devices compared to standard PoE switches.
This enhanced PoE capability is especially valuable in environments where a multitude of powered devices need to be deployed. Whether it's high-definition IP cameras requiring more power, or advanced wireless access points with increased performance demands, the JL725A ensures that power-hungry devices receive the necessary resources for optimal functionality.
Security at the Core
Security is a top priority in today's interconnected world, and the Aruba JL725A is equipped with features designed to safeguard the network infrastructure. The switch supports IEEE 802.1X network access control, ensuring that only authorized devices gain access to the network. This authentication mechanism, combined with MAC address-based filtering, adds an additional layer of security against unauthorized access.
Furthermore, the switch facilitates secure remote management through encrypted protocols such as SSH and SNMPv3. These security measures not only protect against unauthorized access but also contribute to compliance with industry regulations and data protection standards.
Quality of Service (QoS) for Optimal Performance
In a network where diverse applications contend for bandwidth, ensuring optimal performance for critical applications is crucial. The Aruba JL725A addresses this challenge by incorporating advanced Quality of Service (QoS) mechanisms.
The switch supports traffic prioritization based on various parameters, including IP address, DSCP values, and VLAN tags. This granular control over traffic enables organizations to allocate bandwidth strategically, ensuring that mission-critical applications receive the necessary resources for optimal performance. Whether it's voice and video communication or data-intensive applications, the JL725A excels in delivering a consistent and reliable user experience.
Simplified Management with Aruba Central
Efficient management is the key to maintaining a well-functioning network. The Aruba JL725A can be seamlessly integrated into the Aruba Central cloud management platform, providing a centralized and user-friendly interface for monitoring and configuring network devices.
Aruba Central simplifies day-to-day operations by offering a single-pane-of-glass view of the entire network. Administrators can monitor device health, configure settings, and apply updates remotely, reducing the need for on-site intervention. This cloud-based management approach not only enhances operational efficiency but also enables organizations to scale their network management capabilities without the need for extensive infrastructure investments.
Conclusion
The JL725A Aruba 6200F 24G Class4 PoE 4SFP+ 370W Switch stands as a testament to the evolving needs of modern networking environments. With its focus on performance, advanced PoE capabilities, security features, and efficient management, this switch caters to the demands of organizations seeking a reliable and scalable networking solution. As businesses continue to embrace digital transformation, the Aruba JL725A proves itself as a versatile and future-ready component in building robust and high-performance networks.
Smart Links
Weight and dimensions for JL725A?
| | |
| --- | --- |
| SKU | JL725A |
| Condition | New |
| Brand | HPE |
| GTIN | 190017 408507 |
The warranty for refurbished units is 30 days.
The warranty for New units is as per the manufacturer's terms and conditions.
Request for Bulk Discount