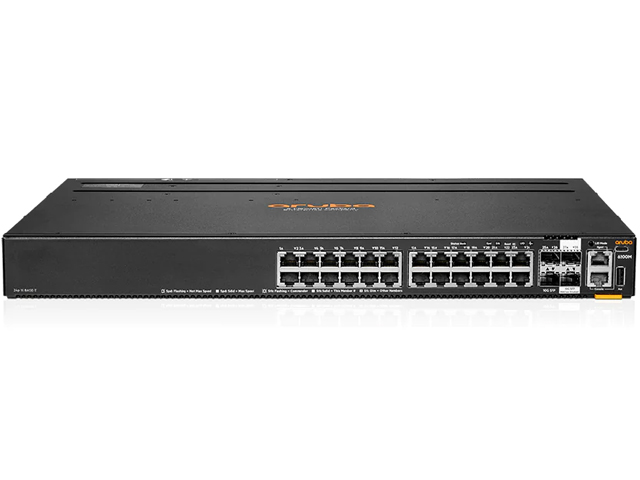 Actual product may vary from the images
R8Q67A New HPE Aruba 6200M 24G 24-Ports 4SFP+ Manageable Switch
MPN: R8Q67A | UPC: 190017 535005 | CONDITION: New
R8Q67A HPE Aruba 6200M 24G 24-Ports 4SFP+ Manageable Switch
Introduction:
In the dynamic world of networking, the demand for reliable and efficient switches is ever-growing. The R8Q67A HPE Aruba 6200M 24G 24-Ports 4SFP+ Manageable Switch emerges as a solution tailored to meet the evolving needs of modern network infrastructures. In this article, we delve into the key features and advantages that make this switch a standout choice for businesses seeking a scalable, manageable, and high-performance networking solution.
Specifications of R8Q67A:
Power consumption: 75W at 230 VAC
Input voltage: 100V-120V/200V-240V
Ports: 24x ports 10/100/1000BASE-T Ports, 4x 1G/10G SFP ports (2x LRM; 2x LRM/MACSec 256), 1x RJ-45 Console Port, 1x USB-C Console Port, 1x OOBM, 1x USB Type-A Host port
Latency: 1 Gbps: 2.28 μSec, 10 Gbps: 1.46 μSec
Routing/switching capacity: 128 Gbps
Stacking capabilities: 8 members
Throughput: Up to 95.2 Mpps
Memory and processor: Quad Core ARM Cortex™ A72 @ 1.8 GHz
Power supply: 2 field-replaceable, hotswappable power supply slots, 1 minimum power supply required (ordered separately), Supports JL085A PSU
Weight: 6.01 kg (13.25 lbs)
Dimensions: 4.39 x 44.247 x 38.38 cm (1.73 x 17.42 x 15.11 in)
Robust Performance:
At the heart of the HPE Aruba 6200M is its impressive performance capabilities. Boasting 24 Gigabit Ethernet ports and 4 SFP+ ports, this switch provides a solid foundation for high-speed data transfer and seamless connectivity. The Gigabit Ethernet ports ensure swift data transmission within the local network, while the SFP+ ports offer the flexibility to connect to other devices or extend the network over longer distances using fiber optic cables.
Scalability for Growing Networks:
Designed with scalability in mind, the HPE Aruba 6200M addresses the challenges of expanding networks. With 24 ports, the switch caters to the needs of growing businesses, allowing for the connection of an increasing number of devices. Moreover, the switch supports stacking, enabling multiple switches to be seamlessly combined into a unified and easily manageable network infrastructure. This scalability not only simplifies network administration but also ensures that the switch can adapt to the evolving requirements of a dynamic organization.
Manageability for Efficient Administration:
Efficient network administration is a key consideration for any organization, and the HPE Aruba 6200M excels in this regard. The switch features comprehensive management capabilities that empower administrators to configure, monitor, and troubleshoot the network with ease. With support for both web-based and command-line interfaces, administrators have the flexibility to choose the management method that aligns with their preferences and expertise.
Advanced Layer 2 and Layer 3 Functionality:
The HPE Aruba 6200M goes beyond the capabilities of a basic Layer 2 switch by incorporating Layer 3 routing functionality. This enhances the intelligence of the network, allowing for more efficient data traffic routing. With support for dynamic routing protocols such as OSPF and BGP, the switch can adapt to changes in the network topology, making it suitable for dynamic and growing environments. The advanced routing capabilities contribute to improved network efficiency and performance.
Security Features for Network Protection:
In an era where cybersecurity is a top priority, the HPE Aruba 6200M includes robust security features to safeguard the network against potential threats. Access Control Lists (ACLs) enable administrators to control access to the network, while DHCP snooping and Dynamic ARP protection mitigate common attack vectors. The switch also supports port security, allowing administrators to restrict unauthorized access and enhance overall network integrity.
Quality of Service (QoS) for Traffic Prioritization:
Effective Quality of Service (QoS) is crucial in ensuring a seamless network experience, especially in environments where diverse applications compete for bandwidth. The HPE Aruba 6200M enables administrators to prioritize traffic based on application or service type, ensuring that critical applications receive the necessary bandwidth and resources. This feature is particularly valuable in environments where real-time applications, such as video conferencing or VoIP, demand consistent and reliable network performance.
Reliability with Redundancy Features:
Network reliability is paramount in any organization, and the HPE Aruba 6200M incorporates features to enhance reliability and minimize downtime. Redundant power supply options and hot-swappable fans contribute to the switch's high availability, ensuring continuous network operation even in the face of hardware failures. These redundancy features add an extra layer of resilience to the network infrastructure.
Energy Efficiency for Sustainability:
As the focus on sustainability and energy efficiency grows, the HPE Aruba 6200M aligns with these principles. The switch is designed with energy-efficient components and features such as Energy Efficient Ethernet (EEE), which reduces power consumption during periods of low network activity. This not only contributes to cost savings but also reflects a commitment to environmentally responsible technology solutions.
Conclusion:
The R8Q67A HPE Aruba 6200M 24G 24-Ports 4SFP+ Manageable Switch stands out as a versatile and powerful solution in the realm of network switches. Its combination of high-performance capabilities, scalability, manageability, and advanced features positions it as an ideal choice for businesses and organizations seeking to optimize their network infrastructure. Whether you are expanding your network, enhancing security, or prioritizing efficient administration, the HPE Aruba 6200M offers a comprehensive and future-ready solution to meet the demands of the modern networking landscape.
Smart Links
Weight and dimensions for R8Q67A?
| | |
| --- | --- |
| Weight | 14 lbs |
| Dimensions | 18 × 2 × 16 in |
| SKU | R8Q67A |
| Condition | New |
| Brand | HPE |
| GTIN | 190017 535005 |
The warranty for refurbished units is 30 days.
The warranty for New units is as per the manufacturer's terms and conditions.
Request for Bulk Discount