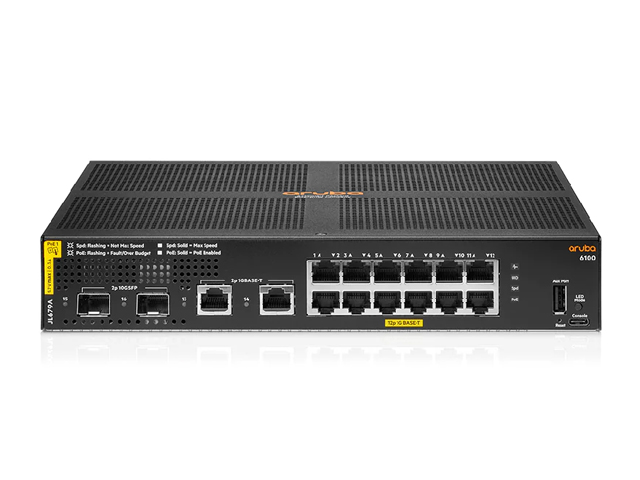 Actual product may vary from the images
R8Q72A New HPE Aruba 6200F 12G Class4 PoE 2G/2SFP+ 139W Switch with 14 Ports
MPN: R8Q72A | UPC: 190017 536675 | CONDITION: New
R8Q72A New HPE Aruba 6200F 12G Class4 PoE 2G/2SFP+ 139W Switch with 14 Ports
Introduction:
In the ever-evolving landscape of networking solutions, the R8Q72A HPE Aruba 6200F 12G Class4 PoE 2G/2SFP+ 139W Switch stands as a testament to innovation, providing businesses with a powerful and versatile solution for optimizing network infrastructure. This article delves into the key features and advantages that make this switch a compelling choice for organizations prioritizing high-performance connectivity, cutting-edge Power over Ethernet (PoE), and advanced manageability.
Specifications for R8Q72A:
Power consumption: 170W at 230 VAC
Input voltage: 100V-120V/200V-240V
Ports: 12x ports 10/100/1000BASE-T Class 4 PoE Ports, supporting up to 30W per port, 2x 1G/10G SFP ports; PHY-less, 2X 1GbE ports, Supports PoE Standards IEEE 802.3af, 802.3at, 1x RJ-45 Console Port, 1x USB-C Console Port, 1x OOBM, 1x USB Type-A Host port
Latency: 1 Gbps: 2.28 μSec, 10 Gbps: 1.46 μSec
Routing/switching capacity: 68 Gbps
Stacking capabilities: 8 members
Throughput: Up to 45.1 Mpps
Memory and processor: Quad Core ARM Cortex™ A72 @ 1.2 GHz
Power supply: Fixed power supply, Up to 139W of Class 4 PoE Power
PoE capability: 139W
Weight: 5.09 kg (11.22 lbs)
Dimensions: 4.39 x 44.247 x 32.54 cm (1.73 x 17.42 x 12.81 in)
Cutting-Edge Connectivity:
At the heart of the HPE Aruba 6200F is its cutting-edge connectivity, featuring 12 Gigabit Ethernet ports and 2 Gigabit/2 SFP+ combo ports. This configuration establishes a robust foundation for high-speed data transfer, ensuring seamless connectivity within the local network. The inclusion of combo ports further enhances the switch's versatility, accommodating both copper and fiber connections based on the specific needs of the network.
Class4 PoE Capabilities:
A defining feature of the R8Q72A is its Class4 PoE support, representing the forefront of Power over Ethernet capabilities. This switch can efficiently power a diverse range of devices directly through the Ethernet cable, including IP cameras, access points, and VoIP phones. With Class4 PoE, the switch delivers increased power levels, meeting the demands of power-hungry devices and supporting the evolution of modern network infrastructures.
Advanced Manageability:
Efficient network administration is a cornerstone of any networking solution, and the HPE Aruba 6200F excels in this regard. The switch incorporates advanced management features, providing administrators with the tools they need to configure, monitor, and troubleshoot the network effectively. Whether through the user-friendly web-based interface or the command-line interface for seasoned administrators, the switch offers a flexible and intuitive management experience.
Enhanced Power and Flexibility:
The R8Q72A's unique combination of 12 Gigabit Ethernet ports and 2 Gigabit/2 SFP+ combo ports provides enhanced flexibility in network design. Administrators can tailor the network to meet specific requirements, choosing between copper and fiber connections based on the needs of different devices and distances. This flexibility ensures optimal performance and scalability for a diverse range of network environments.
Class4 PoE for Device Empowerment:
The Class4 PoE capabilities of the R8Q72A enable organizations to power devices efficiently and simplify cable management. This is particularly advantageous in environments where devices like security cameras or wireless access points require both data connectivity and power. The switch's Class4 PoE support ensures compatibility with a broad array of devices. This empowers organizations to deploy a variety of endpoints without the need for additional power sources.
Layer 2 and Layer 3 Functionality:
The HPE Aruba 6200F goes beyond the capabilities of a basic Layer 2 switch by incorporating Layer 3 routing functionality. This enhances the intelligence of the network, allowing for more efficient data traffic routing. With support for dynamic routing protocols such as OSPF and BGP, the switch can adapt to changes in the network topology, making it well-suited for dynamic and growing environments. The advanced routing capabilities contribute to improved network efficiency and performance.
Security Measures for Network Integrity:
In an era where cybersecurity is paramount, the R8Q72A includes robust security features to safeguard the network against potential threats. Access Control Lists (ACLs), DHCP snooping, and Dynamic ARP protection contribute to network security. This is done by controlling access and mitigating common attack vectors. Network administrators can also implement port security to restrict unauthorized access, bolstering overall network integrity.
Quality of Service (QoS) Prioritization:
Effective Quality of Service (QoS) is essential in ensuring a seamless network experience. Especially in environments where diverse applications compete for bandwidth. The HPE Aruba 6200F enables administrators to prioritize traffic based on application or service type. This ensures that critical applications receive the necessary bandwidth and resources. This feature is particularly valuable in environments where real-time applications, such as video conferencing or VoIP, demand consistent and reliable network performance.
Power Efficiency for Sustainable Operations:
As sustainability becomes an increasingly important consideration, the R8Q72A HPE Aruba 6200F aligns with environmental responsibility. The switch is designed with energy-efficient components, contributing to reduced power consumption. This not only results in cost savings but also reflects a commitment to sustainable and environmentally responsible technology solutions.
Conclusion:
The R8Q72A HPE Aruba 6200F 12G Class4 PoE 2G/2SFP+ 139W Switch represents a leap forward in networking capabilities. It offers a comprehensive blend of power, flexibility, and advanced features. With its advanced connectivity, Class4 PoE capabilities, enhanced flexibility, and advanced manageability, this switch provides a robust foundation for organizations with dynamic networking needs. Whether you're powering high-performance devices, optimizing network traffic, or enhancing security, the HPE Aruba 6200F offers a versatile and high-performance solution that aligns with the demands of modern networking environments.
Smart Links
Weight and dimensions for R8Q72A?
| | |
| --- | --- |
| Weight | 12 lbs |
| Dimensions | 18 × 2 × 13 in |
| SKU | R8Q72A |
| Condition | New |
| Brand | HPE |
| GTIN | 190017 536675 |
The warranty for refurbished units is 30 days.
The warranty for New units is as per the manufacturer's terms and conditions.
Request for Bulk Discount