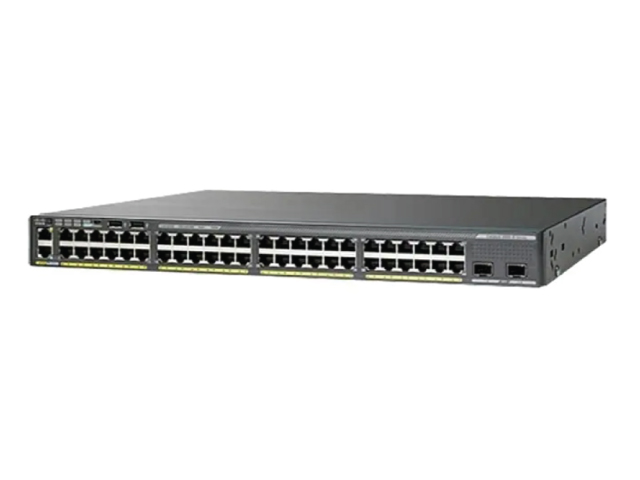 Actual product may vary from the images
WS-C2960XR-48TD-I New Cisco Catalyst C2960XR 48 Ports Layer 2 Network Switch
MPN: WS-C2960XR-48TD-I | UPC: 0 882658598173 | CONDITION: New
WS-C2960XR-48TD-I: The Powerhouse Switch for Enhanced Networking
In today's fast-paced digital landscape, businesses rely heavily on robust and efficient networking solutions to support their operations. The WS-C2960XR-48TD-I is a cutting-edge switch that offers unparalleled performance, reliability, and security. Whether you're a small business or a large enterprise, this powerhouse device is designed to meet your networking needs. In this article, we'll explore the features, benefits, and use cases of the WS-C2960XR-48TD-I, and delve into its installation, configuration, and maintenance. Let's dive in!
Table of contents
Introduction
Overview of WS-C2960XR-48TD-I
Key Features
Benefits of WS-C2960XR-48TD-I
Use Cases
Installation and Setup
Configuration Options
Performance and Reliability
Comparison of WS-C2960XR-48TD-I with Similar Products
Troubleshooting and Maintenance
Security Features
Conclusion
FAQs
Introduction
Networking infrastructure forms the backbone of modern organizations, enabling seamless communication, data transfer, and collaboration. The WS-C2960XR-48TD-I is a medium to high end performance Ethernet switch developed by Cisco Systems, a renowned leader in network solutions. With its advanced capabilities, this switch caters to the ever-increasing demands of businesses, ensuring smooth and uninterrupted connectivity. Being a basic level switch it doesn't offer capabilities of a PoE switch which is why it is a very cost effective solutions for SMB scale environments.
It is a low power consumption alternative and thus comes packed with a 250 watt AC power supply. This further means that the overall cost of running your network with this switch will also be minimized.
Overview of WS-C2960XR-48TD-I
The WS-C2960XR-48TD-I is part of the Cisco Catalyst 2960-XR series, known for its exceptional performance and reliability. Equipped with 48 Ethernet ports and 2 10G SFP+ uplink interfaces, this switch enables fast and efficient data transfer across networks. It supports both Layer 2 and Layer 3 protocols, making it suitable for various network architectures.
Key Features
1. High-Speed Connectivity
The WS-C2960XR-48TD-I offers Gigabit Ethernet connectivity, allowing for fast data transmission between devices. It also includes 10G SFP+ uplink interfaces, enabling high-speed connections to other network devices.
2. Flexibility and Scalability
With its modular design, the switch provides flexibility and scalability to adapt to evolving business needs. It supports optional network modules and power supply modules, allowing for customization based on specific requirements.
3. Advanced Security
Security is paramount in today's digital landscape. The WS-C2960XR-48TD-I incorporates various security features, such as Access Control Lists (ACLs), Secure Shell (SSH) Protocol, and IEEE 802.1X authentication, to protect sensitive data and prevent unauthorized access.
4. Enhanced QoS
Quality of Service (QoS) is essential for prioritizing critical applications and ensuring a seamless user experience. This switch offers advanced QoS capabilities, allowing administrators to prioritize traffic based on specific requirements, ensuring optimal performance.
5. Energy Efficiency
In line with environmental concerns, the WS-C2960XR-48TD-I is designed with energy-efficient features. It supports Cisco EnergyWise technology, which helps monitor and manage power consumption, reducing energy costs and promoting sustainability.
Benefits of WS-C2960XR-48TD-I
The WS-C2960XR-48TD-I brings numerous benefits to businesses of all sizes. Let's explore some of its key advantages:
1. Reliable Performance
With its powerful hardware and intelligent software features, the switch delivers reliable and consistent performance, minimizing downtime and optimizing network efficiency.
2. Simplified Network Management
The WS-C2960XR-48TD-I integrates with Cisco's network management software, providing a centralized platform for configuration, monitoring, and troubleshooting. This simplifies network management tasks, reducing complexity and enhancing operational efficiency.
3. Future-Ready Design
As technology evolves, so do networking requirements. The WS-C2960XR-48TD-I is future-ready, with the ability to support emerging technologies and network advancements, ensuring long-term scalability and investment protection.
4. Cost-Effective Solution
Despite its advanced features, the WS-C2960XR-48TD-I offers cost-effective networking solutions. Its high performance and reliability translate into reduced maintenance and downtime costs, making it an ideal choice for businesses seeking long-term value.
Use Cases
The WS-C2960XR-48TD-I is suitable for a wide range of use cases across different industries. Some common applications include:
Enterprise Networks: The switch provides a robust foundation for enterprise networks, accommodating high traffic loads and ensuring smooth connectivity for a large number of users.
Data Centers: With its high-speed connectivity and advanced features, the WS-C2960XR-48TD-I is ideal for data centers, facilitating fast and efficient data transfer and supporting critical applications.
Small and Medium-Sized Businesses: The switch caters to the networking needs of small and medium-sized businesses, offering a reliable and scalable solution at an affordable price point.
Educational Institutions: Educational institutions can leverage the switch's performance and security features to enhance their network infrastructure, enabling seamless collaboration and resource sharing.
Installation and Setup
Installing and setting up the WS-C2960XR-48TD-I is a straightforward process. Follow these steps to get started:
Unpack the switch and ensure all the necessary components are present.
Mount the switch in a suitable location, considering factors such as ventilation and accessibility.
Connect the required Ethernet cables to the appropriate ports.
Connect the power supply and turn on the switch.
Configure the switch using Cisco's network management software or the command-line interface (CLI).
Configuration Options
The WS-C2960XR-48TD-I offers a range of configuration options to tailor the switch to specific requirements. Administrators can customize various aspects, such as VLAN settings, QoS policies, and security parameters, to optimize network performance and security.
Performance and Reliability
The WS-C2960XR-48TD-I is built to deliver exceptional performance and reliability. With its powerful hardware and advanced software features, the switch ensures minimal packet loss, low latency, and high throughput. It also incorporates redundancy mechanisms, such as Hot Standby Router Protocol (HSRP) and Virtual Router Redundancy Protocol (VRRP), to enhance network availability and resilience.
Comparison of WS-C2960XR-48TD-I with Similar Products
When evaluating networking solutions, it's essential to compare different products to make an informed decision. Let us bear in mind that this switch is a very basic level 48 ports switch that doesn't offer Power over ethernet capabilities. While for some this might just be a perfect fit, but for other it might not. Let us now consider a few other options that can fit in pretty well for users who need the functionality that is missing in the WS-C2960XR-48TD-I:
WS-C2960XR-48LPS-I: The WS-C2960XR-48LPS-I offers PoE functionality as compared to the WS-C2960X-48TD-L which doesn't. This alone makes the WS-C2960XR-48LPS-I a better option for some. Additionally it also offers 4 SFP ports compared to the 2 SFP+ ports on the WS-C2960XR-48TD-L. This also means that the cost for the LPS model will be higher than that of the TD version. One needs to bear in mind that only 24 ports can be used for power. However, all ports can be configured to only support data.
WS-C2960XR-48FPS-I: While the WS-C2960XR-48FPS-I provides similar performance to the WS-C2960XR-48LPS-I including PoE functionality but it has a higher PoE budget than the LPS version. It can power devices up to a maximum of 740W of PoE budget. This higher power consumption is supported by a 1025 Watt power supply that comes standard with the WS-C2960XR-48FPS-I. The FPS-I can offer power on all 48 of its ports compared to only 24 on the LPS-I model.
WS-C2960XR-48FPD-I: If you want to stay within a friendly budget then the WS-C2960XR-48FPD-I is a great option. It offer PoE functionality while keeping your budget at a minimum. However it offers 740W of PoE budget and comes with a 1025 Watt power supply which increases the power costs of running your network.
Troubleshooting and Maintenance
To ensure optimal performance, it's important to address any issues promptly and perform regular maintenance tasks. The WS-C2960XR-48TD-I provides comprehensive troubleshooting and maintenance features, including diagnostic tools, software updates, and hardware monitoring. Cisco's support resources and community forums can also assist in resolving any technical challenges.
Security Features
Maintaining network security is crucial in protecting sensitive data and preventing unauthorized access. The WS-C2960XR-48TD-I incorporates robust security features, such as advanced threat detection, secure management protocols, and access control mechanisms, to safeguard your network infrastructure.
Conclusion
The WS-C2960XR-48TD-I is a versatile and powerful switch that caters to the networking needs of businesses across various industries. With its high-speed connectivity, advanced features, and reliability, this switch provides a solid foundation for building efficient and secure network infrastructures. Whether you're a small business or a large enterprise, the WS-C2960XR-48TD-I offers the performance and scalability required to meet your networking demands.
FAQs
Q1: Can I stack multiple WS-C2960XR-48TD-I switches for increased capacity?
Ans: Yes, you can stack multiple WS-C2960XR-48TD-I switches to increase capacity and create a unified and scalable network infrastructure. Cisco's stacking technology allows you to connect up to eight switches together, forming a single logical unit with enhanced performance and simplified management.
By stacking the switches, you can aggregate their ports, creating a high-density and high-bandwidth solution. This enables you to handle larger traffic loads, connect more devices, and expand your network capacity without compromising performance.
Q2: Can i get PoE with the WS-C2960XR-48TD-I?
Ans: No, the WS-C2960XR-48TD-I does not support Power over Ethernet (PoE) functionality. The "TD" in its model name indicates that this switch is a non-PoE (Power over Ethernet) variant. Power over Ethernet is a technology that allows network devices, such as IP phones, wireless access points, and surveillance cameras, to receive power and data over a single Ethernet cable. This eliminates the need for separate power cables and simplifies the deployment and management of these devices.
If you require PoE capabilities, you may consider other models within the Cisco Catalyst 2960-XR series, such as the WS-C2960XR-48FPD-I. The "FPD" in its model name denotes that it supports Power over Ethernet, providing power to compatible devices connected to its Ethernet ports. When choosing a switch, it is essential to consider your specific requirements, including the need for PoE functionality, to ensure that the switch you select aligns with your network infrastructure and device power requirements.
Q3: What warranty and support options are available for the WS-C2960XR-48TD-I?
Ans: The WS-C2960XR-48TD-I switch from Cisco typically comes with a standard warranty and various support options. The specific warranty and support offerings may vary, so it's always recommended to check with Cisco or your authorized reseller for the most up-to-date information. Here are some common warranty and support options:
Limited Lifetime Warranty: Cisco generally provides a limited lifetime warranty for the WS-C2960XR-48TD-I switch. This warranty covers defects in materials and workmanship under normal use and conditions. The duration of the limited lifetime warranty may vary depending on the region and specific terms.
Software Updates and Bug Fixes: Cisco offers access to software updates, bug fixes, and patches for their products. These updates help ensure that your switch remains secure and up-to-date with the latest features and enhancements.
Technical Assistance Center (TAC) Support: Cisco's Technical Assistance Center provides technical support for their products. You can reach out to Cisco's support team through various channels, such as phone, email, or online chat, to seek assistance with configuration, troubleshooting, or any other product-related queries.
Smart Net Total Care: Cisco also offers Smart Net Total Care, a comprehensive support service that provides additional benefits beyond the standard warranty. With Smart Net Total Care, you can access 24/7 technical support, expedited hardware replacement, proactive device diagnostics, and other valuable features.
Overview
General Information
Manufacturer
Cisco Systems, Inc
Manufacturer Part Number
WS-C2960XR-48TD-I
Manufacturer Website Address
http://www.cisco.com
Brand Name
Cisco
Product Line
Catalyst
Product Series
2960-XR
Product Model
2960XR-48TD-I
Product Name
Catalyst 2960XR-48TD-I Ethernet Switch
Marketing Information
Catalyst 2960-X series Software Features

All Catalyst 2960-X Series Switches use a single Universal Cisco IOS Software Image for all SKUs. Depending on the switch model, the Cisco IOS image automatically configures either the LAN Lite, LAN Base, or IP Lite feature set.

LAN Lite models have reduced functionality and scalability for small deployments with basic requirements. Cisco Catalyst 2960-X Family of Switches are available with the LAN Base and LAN Lite feature sets and Catalyst 2960-XR Family of switches are available IP Lite feature sets.

Note that each switch model is tied to a specific feature level; LAN Lite cannot be upgraded to LAN Base and LAN Base cannot be upgraded to IP Lite.

Product Type
Ethernet Switch
Specification
Interfaces/Ports
Total Number of Network Ports
48
Modular
No
Port/Expansion Slot Details
48 x Gigabit Ethernet Network
Port/Expansion Slot Details
2 x 10 Gigabit Ethernet Expansion Slot
Media & Performance
Media Type Supported
Twisted Pair
Ethernet Technology
Gigabit Ethernet
Ethernet Technology
10 Gigabit Ethernet
Network Technology
10/100/1000Base-T
I/O Expansions
Number of Total Expansion Slots
2
Expansion Slot Type
SFP+
Number of SFP+ Slots
2
Network & Communication
Layer Supported
3
Management & Protocols
Manageable
Yes
Power Description
Power Source
Power Supply
Redundant Power Supply
Yes
Physical Characteristics
Form Factor
Rack-mountable
Height
1.8″
Width
17.5″
Depth
16″
Weight (Approximate)
13.30 lb
Miscellaneous
Green Compliant
Yes
Green Compliance Certificate/Authority
RoHS
Warranty
Limited Warranty
Lifetime
Weight and dimensions for WS-C2960XR-48TD-I?
| | |
| --- | --- |
| Weight | 15 lbs |
| Dimensions | 17 × 18.5 × 2 in |
| SKU | WS-C2960XR-48TD-I |
| Condition | New |
| Brand | CISCO |
| GTIN | 0 882658598173 |
Warranty for WS-C2960XR-48TD-I?
The warranty for refurbished units is 30 days.
The warranty for New units is as per the manufacturer's terms and conditions.
Request for Bulk Discount